Money Saving Ideas for Your Home
A money saving tip is only good if it works for you. The Fat Dollar will help you use what you already have as well as things you can easily get. Our motto is that a money saving tip should be interesting, fun, relatively easy, and should awaken your creative spirit.
Save money unclogging a clogged bathroom sink drain
The Fat Dollar recommends: The Sink Wizard, or an equivalent product. The Sink Wizard is a tiny hard-bristled cone-shaped brush attached on the end of a long flexible thick wire cord.
I had both a slow draining clogged bath tub drain and a slow-draining clogged bathroom sink drain. I had used a forceful plunger (several times) and also tried vinegar and baking soda to clear the drain. Neither worked in getting the bathroom sink and the bath tub to drain faster. The bathtub was a big challenge because I could not remove the drain stopper. I thought I was going to have to call a plumber. Then, when I was shopping at Menard's last night, I saw the Sink Wizard on sale for $3.00. My son had mentioned that he had seen a commercial for this on tv, so on impulse I bought it. The package came with two Sink Wizards, one for the bathroom sink and one for the bath tub. They looked interchangeble to me.
They worked and it was easy and quick. I opened the package and snaked the Sink Wizard down the bathroom sink drain and then twisted it, as the package showed. When I pulled it up, it had a big clump of gross black stuff. A couple more snaking down and twisting the Sink Wizard and the clogged bathroom sink drain was now draining normally.
The clogged bathtub drain was a little harder, for unexpected reasons. Snaking the Sink Wizard down and bringing it up pulled up huge, super gross, hairy, black, foul-smelling clogs. Eeeeewwwww!! It only took two or three easy passes (assuming you could hold your breath long enough) and the bathtub drain was draining with a clear whirlpool.
It took longer to rinse out the brushes and clean out the splattered sides of the bath tub and the bathroom sink than it did to clear the drains. Needless to say, I put both those Sink Wizard brushes in a spot where I can easily find them again. I'm a happy customer.
Fat Dollar Summary: A package of two Sink Wizards cost $3.00. (They were from Menard's and appeared to be on sale.) This not only was dramatically less expensive than calling a plumber or even using caustic drain cleaner, but it was simpler too. In less than the time it took to look up the plumber's phone number and arrange for an appointment, both drains were completely cleared. I'm amazed!
The books below are Fat Dollar recommendations for useful, fun, thought-provoking books that will save you money and help you regain control of your dollars.
---
RECOMMENDED BOOK
Your Money or Your Life by Joe Dominguez and Vickie Robin-
Are you working to make a living or working to make a life? Change the way you treat money and think about money. Revolutionary, inspiring and empowering nine-step program for transforming your relationship with money and achieving financial independence. This book has changed many lives and Amazon readers give it a 4+ star rating (out of 5)!
---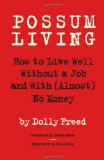 Possum Living: How to Live Well Without a Job and with (Almost) No Money
by Dolly Freed
This is a classic from the late 1970's. Dolly Freed and her father took frugal living to the extreme when they decided to live well without jobs and with very little money. Written when Dolly was just 18, it is filled not only with frugal living ideas, but also with philosophical comments, insights, and life lessons.
---
THE COMPLETE TIGHTWAD GAZETTE by Amy Dacyczyn
....This is one of my favorite books.
Although a little quirky sometimes, and sometimes a little extreme, this book has many great ideas for spending less on low priority stuff so you'll have more money to spend on high priority stuff (like college, or a house!) The author, Amy Dacyczyn lived her dream of having a large farm house and many happy kids all while working from home and learning how to be creative and frugal. Amy's background in graphic design makes her approach to saving money simply delightful. The best part for me was the wonderful tone of family love that weaves throughout the book. Very creative and fun book and VERY THICK! You will definitely get your money's worth in simple living tips and money saving tips with this book.
---
THE SECRET gave you the inspiration and the momentum.... now here are the tools for creating the life that you long for. Beyond Visualization - Hololgraphic Creation
---
FREE e-book - I Create Millions - change your beliefs about wealth and watch the abundance flow into your life! (this will open as a .pdf file using Adobe Acrobat) - a recommend reading book based on the principles of The Secret!
---
Books are offered in association with Amazon
The Fat Dollar Ideas
In the Kitchen - grocery shopping, cooking, planning ... get some Fat Dollar Ideas
In the Home - tips and ideas to save money in your home
Self-Employment - The Fat Dollar will give you support and ideas to increase your income and still let you live a joyful life
Manage Your Money - Tips for managing your Fat Dollars
---
Fat Dollar recommends
Simply Free Stuff site - Simple Life Corp freebie page - samples, products, more.