Money Saving Books
A money saving tip is only good if it works for you. The Fat Dollar will help you use what you already have as well as things you can easily get. Our motto is that a money saving tip should be interesting, fun, relatively easy, and should awaken your creative spirit.
The books below are Fat Dollar recommendations for useful, fun, thought-provoking books that will save you money and help you regain control of your dollars.
---
RECOMMENDED BOOK
Your Money or Your Life by Joe Dominguez and Vickie Robin-
Are you working to make a living or working to make a life? Change the way you treat money and think about money. Revolutionary, inspiring and empowering nine-step program for transforming your relationship with money and achieving financial independence. This book has changed many lives and Amazon readers give it a 4+ star rating (out of 5)!
---
Tony Robbins - Money - Master the Game - 7 Simple Steps to Financial Freedom
This is a fairly thick book filled with both inspirational and detailed information on how to manage and invest your money.
---
The Total Money Makeover - Dave Ramsey
There is a simple reason why you should read this book: It works.
Dave's philosophy sounds severe but is actually quite liberating and has the potential to create great wealth as well as peace of mind and strong family bonds. In a few words, Dave sets up a system for you to create an emergency fund, pay off all debt, create savings and investments, pay off your mortgage, and stay out of debt forever.
---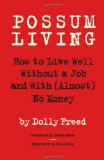 Possum Living: How to Live Well Without a Job and with (Almost) No Money by Dolly Freed
This is a classic from the late 1970's. Dolly Freed and her father took frugal living to the extreme when they decided to live well without jobs and with very little money. Written when Dolly was just 18, it is filled not only with frugal living ideas, but also with philosophical comments, insights, and life lessons.
Just for the record, you probably won't decide to live like Dolly, and some of her opinions of stepping over, around and under the law are uncomfortable for me. That said, this is a good example of how a person lives a full, healthy, very happy life with very little money.
---
THE COMPLETE TIGHTWAD GAZETTE by Amy Dacyczyn
....This is one of my favorite books.
Although a little quirky sometimes, and sometimes a little extreme, this book has many great ideas for spending less on low priority stuff so you'll have more money to spend on high priority stuff (like college, or a house!) The author, Amy Dacyczyn lived her dream of having a large farm house and many happy kids all while working from home and learning how to be creative and frugal. Amy's background in graphic design makes her approach to saving money simply delightful. The best part for me was the wonderful tone of family love that weaves throughout the book. Very creative and fun book and VERY THICK! You will definitely get your money's worth in simple living tips and money saving tips with this book.
---
---
Dave Ramsey - The Total Money Makeover

Dave Ramsey has a straightforward philosophy: Get out of debt, stay out of debt, save money for the important things in your life, and stay in control of your financial life.
---
THE COMPLETE IDIOTS GUIDE TO BEING A CHEAPSKATE by Mark W Miller. Help with saving money on travel, gifts, home items and more in the traditional "complete idiot's guide" format.
Books are offered in association with Amazon and Clickbank.
The Fat Dollar Ideas
In the Kitchen - grocery shopping, cooking, planning ... get some Fat Dollar Ideas
In the Home - tips and ideas to save money in your home
Self-Employment - The Fat Dollar will give you support and ideas to increase your income and still let you live a joyful life
Manage Your Money - Tips for managing your Fat Dollars
The Fat Dollar recommends Simply Free Stuff site