How Often Do You Need to Wash Your Clothes
How Often Should You Wash Your Clothes?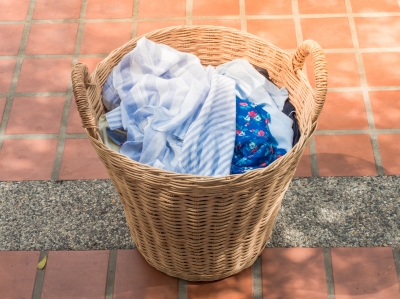 Here is a quick guide from Real Simple to help you determine how frequently you need to launder key warm-weather clothing pieces, barring stains or especially sticky days, that is.

Jeans: After 4 to 5 wears

Dress Pants: After 4 to 5 wears

Jackets and Blazers: After 5 to 6 wears

Khaki Shorts and Pants: After 2 to 3 wears

Pajamas: After 3 to 4 wears

Skirts: After 4 to 5 wears

Swimsuits: After every wear

Tops and Dresses: After 1 to 3 wears

T-Shirts, Tanks and Camisoles: After every wear

Bras: After 3 to 4 wears

Source: Real Simple


Article by Patti Tokar Canton
Photo courtesy of freedigitalphotos.net and jm1366
©
2011-2017 All Rights Reserved. Do Not Duplicate Without Permission
---
RECOMMENDED BOOK
Your Money or Your Life by Joe Dominguez and Vickie Robin
9 Steps to Transforming Your Relationship With Money and Achieving Financial Independence.
Are you working to make a living or working to make a life? Change the way you treat money and think about money. Revolutionary, inspiring and empowering nine-step program for transforming your relationship with money and achieving financial independence. This book is a classic and has changed many lives and Amazon readers give it a 4+ star rating (out of 5)!
---
THE COMPLETE TIGHTWAD GAZETTE by Amy Dacyczyn
....This is one of my favorite books.
Although a little quirky sometimes, and sometimes a little extreme, this book has many great ideas for spending less on low priority stuff so you'll have more money to spend on high priority stuff (like college, or a house!) The author, Amy Dacyczyn lived her dream of having a large farm house and many happy kids all while working from home and learning how to be creative and frugal. Amy's background in graphic design makes her approach to saving money simply delightful. The best part for me was the wonderful tone of family love that weaves throughout the book. Very creative and fun book and VERY THICK! You will definitely get your money's worth in simple living tips and money saving tips with this book.
---
THE COMPLETE IDIOTS GUIDE TO BEING A CHEAPSKATE by Mark W Miller. Help with saving money on travel, gifts, home items and more in the traditional "complete idiot's guide" format.
Books are offered in association with Amazon
The Fat Dollar Ideas
In the Kitchen - grocery shopping, cooking, planning ... get some Fat Dollar Ideas
Vitamins and Fruit Juice - save $63.87 a year and 20,440 calories
Recipes for Stale Marshmallows
In the Home - tips and ideas to save money in your home
Make Your Own Shampoo and Rinse - Herbal or Plain
Save Money on Anti-Aging and Skin Care Creams
Stop Comparing and Just Enjoy Your Life
Manage Your Money - Tips for managing your Fat Dollars
Save Money on Gas - Increase Your Mileage Up to 26%
Let Uncle Sam Help Finance Your Retirement Plan
Bartering Online or Offline - To fatten up your dollars
Fat Dollar recommends Simply Free Stuff site - Free samples and products
Books to help you save money and regain control of your Fat Dollars
Save Grocery Money Books - free bonus cookbook with purchase