Making Shampoo
[last update 11-29-18 - prices updated]
Use these handmade shampoos as your regular hair cleansing product or just to take a mini-break from your regular shampoo for clean, healthy hair.
Take a moment to read the ingredients of your current shampoo. You may be surprised at the list of chemicals it contains. Most shampoos contain petroleum products, preservatives, alcohol and solvents. All these chemicals are absorbed through your scalp, right next to your brain.
Below are directions for
Baking Soda Shampoo
Vinegar Rinse
Castile Soap Shampoo
and Castile Herbal Shampoo.
Easily make your own shampoo substitutes. Try one of these:
Baking Soda shampoo - with vinegar rinse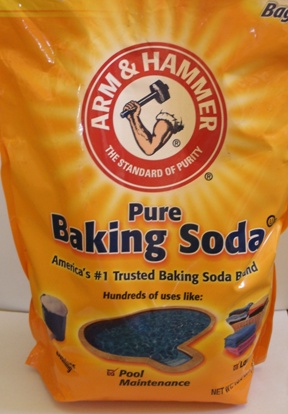 This shampoo does not create suds. The texture is unusual for washing hair and takes a bit of getting used to. One blogger reports that this is her only shampoo and her long hair is silky, clean, and super manageable.
The bonus with this is the gentle but thorough cleaning of the scalp. It is ideal for using occasionally to remove any buildups on your scalp.
The baking soda shampoo is one of the easiest recipes to make your own shampoo. All that is needed is baking soda. Work about a tablespoon of baking soda into enough water to make a paste. Massage this into the ends of your hair. Wait about a minute, then massage this paste with more water onto your scalp. Spend two or three minutes gently massaging this very thin paste through your scalp. Don't skip this part - the massage feels wonderful for hours afterwards and it also cleans and stimulates the oil glands and hair follicles. Now rinse thoroughly.
Vinegar Rinse
Next add about two tablespoons of apple cider vinegar to about a cup of warm water. Pour this over your hair, mostly on the ends and then rinse this out. The vinegar scent will very quickly disappear as your hair dries.
You may also steep herbs into the vinegar rinse. See instructions below for Castile Soap Shampoo for steps to make "herbal water". Steep the herbs into the water before adding the vinegar.
You will need to use the Baking Soda Shampoo and Vinegar Rinse for at least two to three hair washes for your scalp to start to adjust the oil production. The first one or two times you use it, your hair will be clean, but will feel really different. You'll have to continue using it for about ten days before you will really know how your hair is going to respond. Remember that when you were using regular shampoo that you were putting chemicals, such as petroleums, alcohol, and sodium lauryl sulfate on your scalp. These are actually fairly toxic and your scalp was producing oils to protect your skin from these.
As a bonus, you may actually feel better, especially if you are sensitive to chemicals. Products used on the scalp are absorbed into the skin. Alcohols in shampoo may encourage premature aging of the skin and can weaken cell structure. Sodium lauryl sulfate can cause delicate tissue damage, depression, diarrhea, and a laundry list of other problems. Shampoos contain a variety of potentially problematic chemicals.
Fat Dollar Cost Estimates and Savings for Baking Soda Shampoo:
If you are going to regularly make this baking soda shampoo, then try to buy your baking soda in bulk. Sam's Club carries a 15.0 lb bag of Arm & Hammer Baking Soda for $7.48 at samsclub.com. (price on 11-29-18). If you use 1 Tablespoon for each shampoo, then this would be good for about 493 shampoos, at about $.015, or just a little over one cent per shampoo. This should last over a year.
Now that's a Fat Dollar savings. Healthier hair and scalp plus a huge savings on the cost of shampoo.
The apple cider vinegar is a little pricey for The Fat Dollar purposes. Walmart.com carries a Great Value brand. A 4 pack of 32 oz bottles of apple cider vinegar is $5.65. (price 11-29-18). This equals 128 ounces for $5.65. Best use for rinsing is 2 TBSP per hair rinse (2 TBSP = .97 oz). 128 oz would make 131 rinses. This would be $.043 per rinse (about 4 cents).
Nearly, or even exactly, the same effect can be received with regular vinegar. In this case, Walmart.com has a 2 pack of 128 oz containers of regular vinegar for $4.81, even less if on sale. This would then be 263 rinses and make our hair rinse cost about $.018 (about 2 cents) per rinse.
Totals: Baking soda shampoo - about 1-1/2 cents per use
Vinegar rinse with apple cider vinegar - about 4 cents per use
Vinegar rinse with regular vinegar - about 2 cents per use
Castile Soap Shampoo with optional Herbal variation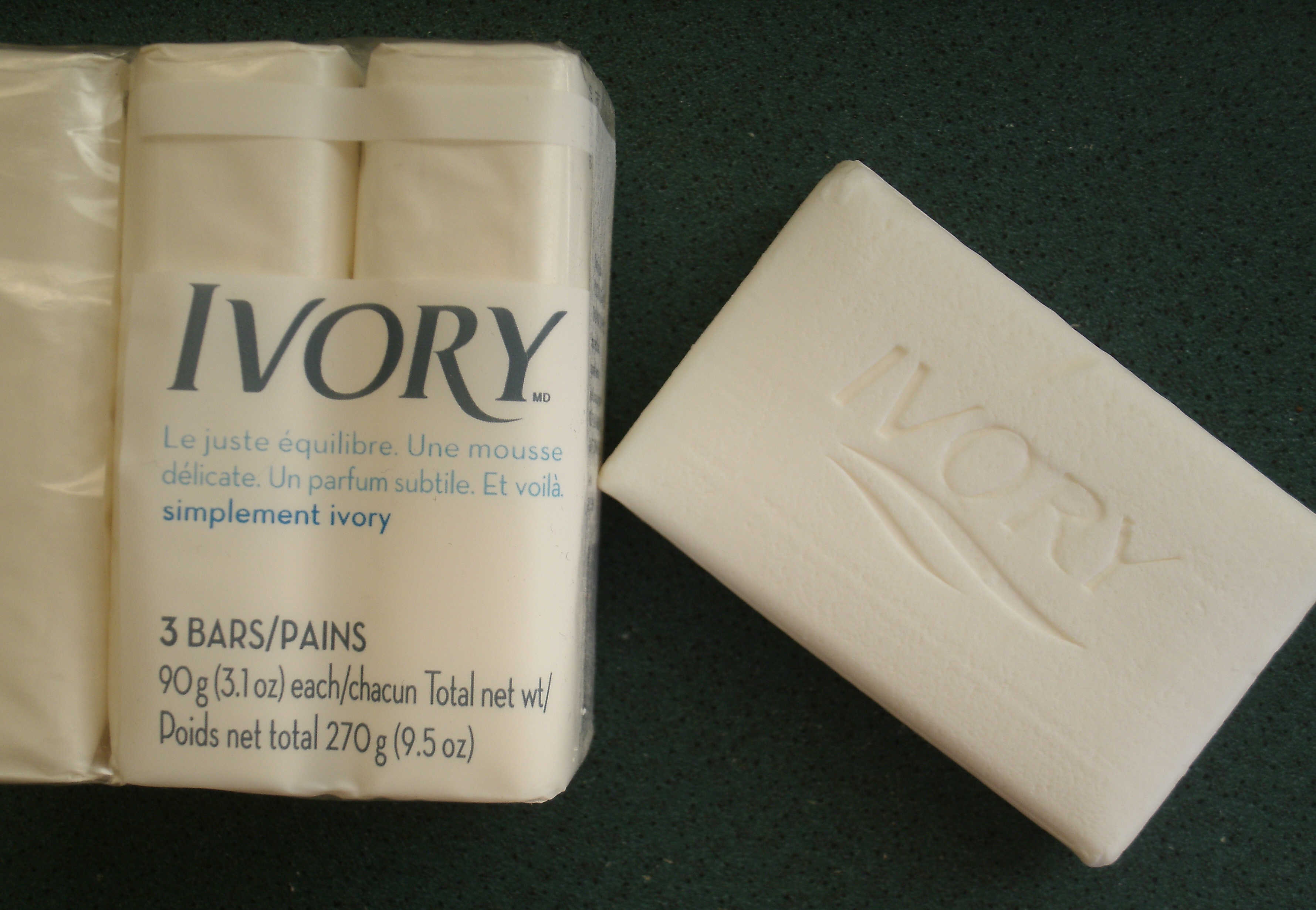 This recipe allows you to make your own shampoo with added oil for conditioning, and essential oils for fragrance. Take a bar of pure castile soap and shave or grate the soap. Bring about two quarts of water (use filtered water if you have a water filter in your home) to boil and turn off the heat. Steep your choice of herbs in this water if desired (see instructions below). Add the grated soap to the water and stir until dissolved. You can add more or less water depending on your personal preference for thickness. Using small amounts of water will create a gel and large amounts of water makes a thin liquid shampoo.
If your hair is dry or damaged, you may try adding one or two tablespoons of olive oil or jojoba oil to the mixture after the grated soap is dissolved.
You may also add 4 to 6 drops of essential oils for fragrance.
Cool the mixture, then pour into containers that can be capped and stored in the shower. Old shampoo bottles work well.
Note: if you don't want to add oils, essential oils, or herbs, you can simply use the bar of castile soap as is. Just lather in your hands and massage the suds into your hair. Converting it to a liquid makes it a little easier to use as well as more diluted for use on your hair.
Castile Herbal Shampoo (Optional herbal variation)
To make herbal castile soap shampoo, use "herbal" water. Take your desired dried herb* (rosemary, lavender flowers, sage, nettle leaves, peppermint, etc.) and put 2 - 3 tablespoons in a tea steeper or a nylon bag (you can make one from old clean, nylon hose) and steep in two quarts of just boiled water for about 20 min. Remove the herb strainer or bag and use this water for your recipe. You will need to return the water to boiling for the recipe.
You may also save your herbal tea bags after using them for tea and steep these in the water for lovely fragrance and some herbal properties.
*Herbal notes: If you are blonde, you may enjoy getting some marigold flowers from your garden and using them in the herbal water. Use the petals from 8 - 12 flowers. The marigold enhances your blonde highlights.
Properties of some herbs:
Lavender - calming
Peppermint - invigorating
Rosemary - stimulates the hair follicles
Sage - antibiotic
Nettle - nutrients for the hair
Cherry Bark - softness
Fat Dollar Cost Estimates and Savings for Castile Herbal Shampoo:
Kirk's Natural Castile soap is available for $7.99 for 3 bars from Amazon.com, or $2.66 per bar. (Cost per bar is less if you buy larger packs - a 12 bar pack is 26.59 at Amazon, or $2.22 per bar). NOTE: use the bars of Kirk's soap not the liquid soap. The liquid Kirk's soap contains Lauramide DEA, and/or DMDM Hydantoin, two of the very toxic chemicals that we are trying to avoid.
Dr. Bronner's Pure Castile Soap is more expensive and, depending on the variety, it does contain several very low toxicity chemicals - Glycerin, Citric Acid, Lavandula Hybrida Oil, and Tocopherol. It already contains lovely scented essential oils, such as lavender and rose. It is available for $28.95 for 6 bars, or $4.83 a bar from Amazon. Walmart.com has a 3 pack of lavender bars for 11.16, which calculates to $3.72 per bar. The benefit of Dr. Bronner's is the variety of essential oil scents that are available. It can also be purchased in unscented form.
Another alternative is Simply Ivory Soap. Ivory Soap is technically not a castile soap, since it contains sodium tallowate, which is an animal fat derivative. It does contain Tetrasodium EDTA, and Glycerin; both are considered very low toxicity chemicals. Oddly the one ingredient that Simply Ivory contains that is considered very hazardous is the small amount of fragrance. If you can find the original unscented Ivory Soap, then this is an ideal soap to use for your shampoo if you do not mind the animal fat derivatives. Simply Ivory soap is still a good soap to use and will cost about $1.00 a bar. (This is if you buy single bars. You can Simply Ivory for less than $.50 a bar by ordering in bulk through Amazon.com).
Therefore, using Dr. Bronner's Pure Castile Soap will cost $4.83 for your batch of shampoo. Simply Ivory will cost as little as $.37.
Sam's Club sells Bertolli Olive Oil at $15.98 for 68 oz.. Therefore two tablespoons of olive oil will add about $.23 to the cost of your shampoo.
Essential oils will also add to the cost. As an example, Lavender Essential Oil is approximately $9.50 per ounce (Amazon.com). Estimating roughly 400 drops of oil per ounce, then 5 drops would cost about $.12.
Two quarts should last for 64 - 128 shampoos, assuming that you use 1/2 to 1 Tablespoon of the shampoo per use. One tablespoon is a lot of shampoo! This batch should last about 2 - 8 months. Remember that these will not have the high suds effect of most shampoos.
For the best Fat Dollar cost of the herbs, you should grow your own, or sweet talk a handful from a friend who grows them. I have not included any estimates for steeping herbs to the shampoo. Keep in mind you may also steep in a mild herb solution by using your used herbal tea bags. Chamomile, raspberry, and other teas are excellent for this purpose.
Totals: Two quarts (half gallon) of handmade shampoo with olive oil
Using Dr. Bronner's Pure Castile Soap - $3.99
Using Simply Ivory Soap - $.70 - $1.20
Two quarts of handmade shampoo with essential oils and olive oil
Using Dr. Bronner's Pure Castile Soap - $3.99 (assuming you purchase the soap with the essential oil already included, such as lavender) - $4.11 (adding your own)
-- note that you may also be able to reduce the olive oil when using Dr. Bronner's since it already contains jojoba oil
Using Simply Ivory Soap - $.92 - $1.32
The Fat Dollar recommends first trying the batch with the Simply Ivory Soap.
---
RECOMMENDED BOOK
Your Money or Your Life by Joe Dominguez and Vickie Robin
9 Steps to Transforming Your Relationship With Money and Achieving Financial Independence.
Are you working to make a living or working to make a life? Change the way you treat money and think about money. Revolutionary, inspiring and empowering nine-step program for transforming your relationship with money and achieving financial independence. This book is a classic and has changed many lives and Amazon readers give it a 4+ star rating (out of 5)!
---
THE COMPLETE TIGHTWAD GAZETTE by Amy Dacyczyn
....This is one of my favorite books.
Although a little quirky sometimes, and sometimes a little extreme, this book has many great ideas for spending less on low priority stuff so you'll have more money to spend on high priority stuff (like college, or a house!) The author, Amy Dacyczyn lived her dream of having a large farm house and many happy kids all while working from home and learning how to be creative and frugal. Amy's background in graphic design makes her approach to saving money simply delightful. The best part for me was the wonderful tone of family love that weaves throughout the book. Very creative and fun book and VERY THICK! You will definitely get your money's worth in simple living tips and money saving tips with this book.
---
---
THE COMPLETE IDIOTS GUIDE TO BEING A CHEAPSKATE by Mark W Miller. Help with saving money on travel, gifts, home items and more in the traditional "complete idiot's guide" format.
Books are offered in association with Amazon
Other Fat Dollar Money Saving Ideas
In the Kitchen - grocery shopping, cooking, planning ... get some Fat Dollar Ideas
Vitamins and Fruit Juice - save $63.87 a year and 20,440 calories
Recipes for Stale Marshmallows
How to Re-Crisp Stale Ready-to-Eat Cereal
Save Money on Food with Inexpensive Clothespins
Microwave Muffins - Worth the Energy Savings? - the experiment and the recipe
Save Grocery Money Books - free bonus cookbook with purchase
26 Good Uses for Used Coffee Grounds
In the Home - tips and ideas to save money in your home
Make Your Own Shampoo and Rinse - Herbal or Plain

Does it Save Money to Use Toilet Paper Instead of Facial Tissue?
Rechargeable Batteries - Energetic Cost Savings
The Washing Soda Experiment - Can You Make Washing Soda from Baking Soda?
My Failed pH Test: Making Washing Soda - The Unexpected Find
Save Money on Anti-Aging and Skin Care Creams
Stop Comparing and Just Enjoy Your Life


More Low Cost Gift Ideas for High Impact
Manage Your Money - Tips for managing your Fat Dollars
How to Stop Impulsive Spending
Save Money on Gas - Increase Your Mileage Up to 26%
Find Your Car's Expected Miles Per Gallon to Save
Let Uncle Sam Help Finance Your Retirement Plan
Tips For Lowering Income Taxes
Bartering Online or Offline - To fatten up your dollars
Fat Dollar recommends Simply Free Stuff site - Free samples and products
Books to help you save money and regain control of your Fat Dollars