How to Save Money on Food
Using the Microwave for Baking
Is it worth the savings?
I tried a Microwave Muffin Recipe to find out.

Photo by Patti Tokar Canton © 2011
There's nothing quite like the aroma of freshly baked goods, still steamy hot from the oven. Breads, cookies, cakes, pies, muffins ... baking seems to be one of the secrets of transforming a house into a home.
Muffins are one of my personal favorite goods to bake. They are quick, easy and can be baked in a variety of ways. Fruits, nuts, spices, and whole flours can be added to make a healthy treat. They are baked as individual servings, so they make great snacks and lunch box additions.
When I was leafing through one of my favorite muffin cookbooks,Another 250 Best Muffin Recipes by Esther Brody, I came across a little section that I had not previously noticed: Microwave Muffins. This seemed odd and foreign to me. Who would have thought of microwave muffin recipes? And especially in my well-loved cookbook?
Looking at the recipes made me wonder what the cost savings was between baking muffins (or anything else, really) in the microwave and baking them in the oven. Further, if the microwave muffin recipe turned out well, then it would extend my "baking season" since I use the regular oven as little as possible during the height of our hot and humid Indiana summers. Using the microwave would allow me to bake more often during the summer.
The experiment was on. I used an altered version of the Apple Spice Muffins recipe in Esther Brody's cookbook.
Apple Spice Muffins
1/4 cup shortening
3/4 cup granulated sugar
2 eggs
3/4 cup applesauce (unsweetened)
1/4 cup milk
1 tbsp lemon juice
1-1/2 cups flour
1 tsp salt
1 tsp baking soda
1 tsp pumpkin pie spice*
1 tsp cinnamon
3/4 cup semi-sweet chocolate chips**
*the original recipe called instead for 1/4 tsp ground nutmeg and 1/4 tsp cloves
**the original recipe called instead for 1/4 cup floured raisins and 1/4 cup chopped walnuts
1. Sift together flour, salt, baking soda, pumpkin pie spice, and cinnamon. Set aside.
2. In a separate bowl, with a mixer or by hand, cream shortening and sugar until light. Add eggs and mix well. Stir in applesauce, milk and lemon juice. Stir until well blended.
3. Gradually stir the sifted flour mixture into the egg mixture. By hand, stirring as gently as possible, mix the ingredients several turns. Add the chocolate chips and gently stir and fold until only a stray lump or two remain. Mixing the batter too long will make tough muffins, less stirring is better.
4. Put paper cupcake liners in a microwave muffin pan. Spoon the batter into the liners. Fill just under 3/4 full. If they are too full, they will run over the edge and flatten (look at the pan in the photo for an example)
5. Bake in microwave oven on High for 2 to 2-1/2 minutes. Let stand for another 3 to 5 minutes. They will continue to cook while standing, so about the only way to tell if they are done is to watch for little bubble pops on the surface of the muffins. They won't really look done by color and will still feel a little sticky to the touch at the end of the 2 or so minutes of baking in the microwave.
Results:
Here is what the microwave muffins look like after baking and standing: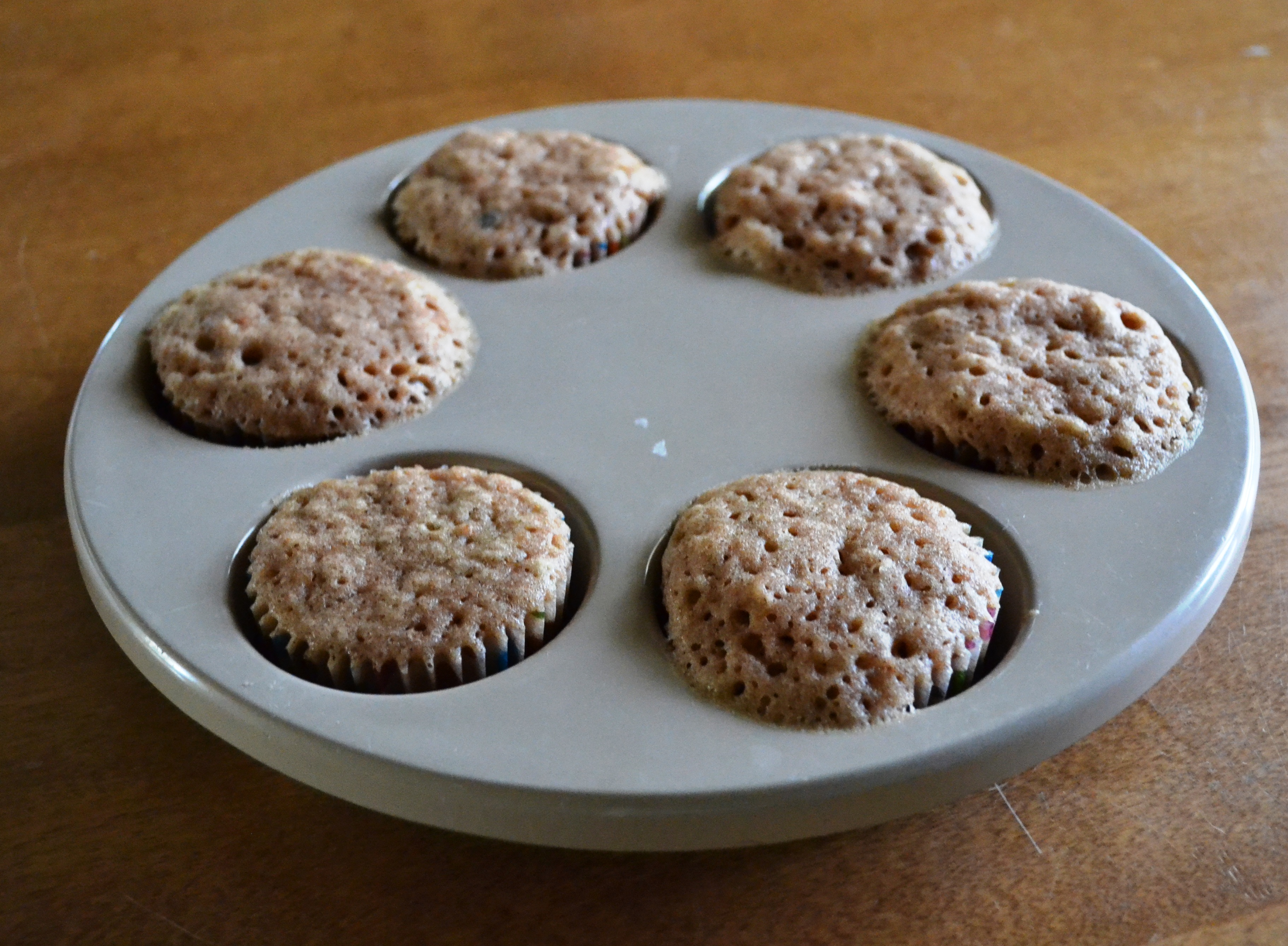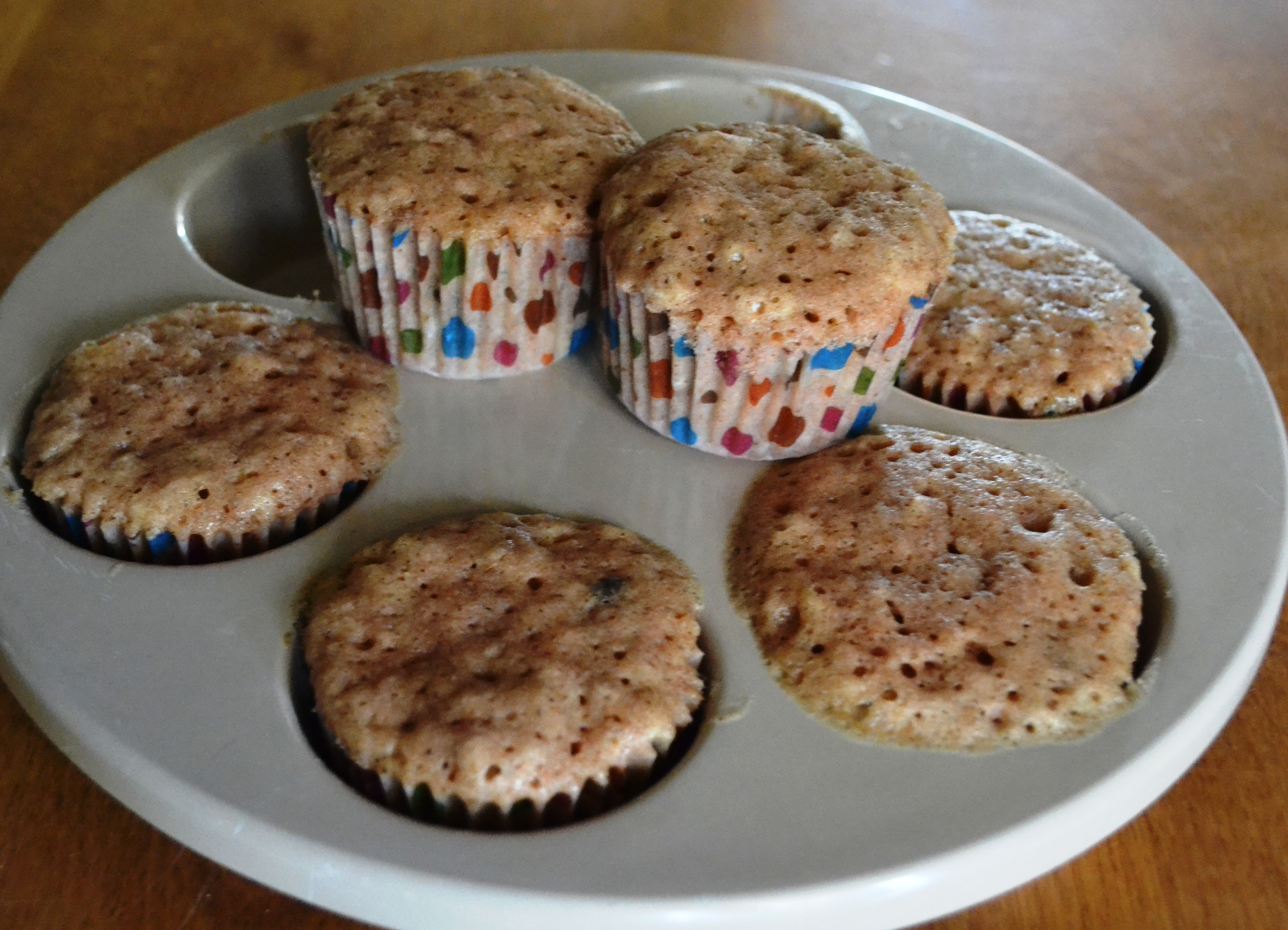 Photos by Patti Tokar Canton © 2011
I was not at all pleased with the looks of these muffins. They were sort of flat, spongy on top, and to add to the sponge effect, the tops had little bubble holes.
To see if it was the recipe or the microwave baking, I heated up the gas oven and baked the last batch of the muffin batter in the gas oven.
Here is a side by side comparison of how they looked: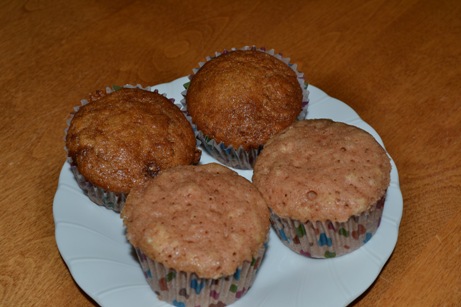 Photo by Patti Tokar Canton © 2011
You can see that the microwave muffins are paler and do not have the slightly crisper "crust" of the gas oven muffins.
This continues on with the taste and texture of the entire muffins. The microwave muffins are slightly chewy and lack the tender, moist-crumb texture of the gas oven muffins.
I calculated the energy baking cost of the microwave muffins to be $.0156 for the batch. (About a penny and a half)*
The energy baking cost of the gas oven baked muffins was $.2522 (about a quarter) for the batch.*
For baking in an electric oven, the batch cost would be about $.302 (about a quarter plus a nickel).*
*(See cost research and notes below)
Therefore, the cost savings for using a microwave for these muffins was about $.24 using the gas oven and about $.29 if using an electric oven.
My strong preference is for the muffins I baked in the gas oven. For me, this far outweighs the $.24 savings in baking costs.
I will add one note, though. If these were going to be frosted or topped with a crumb topping, or if they were being baked for hungry kids that really didn't care about the difference in texture, then I would certainly consider baking them in the microwave.
That won't stop me from experimenting with baking in the microwave. I'll keep you posted. In the meantime, I'll make a blog post and hope that you will leave comments about your experience with microwave muffins, or any other quick bread or cake baking in the microwave.
Use and enjoy what you have, live a joyful, less stressful life, save money, but don't make huge sacrifices to save a few cents. Now that's The Fat Dollar way!
Resources and Notes:
For my cost comparisons, I used (or reviewed) data from the US Energy Information Administration (www.eia.gov), the US Dept of Energy (www.energysavers.gov), my local utility company, NIPSCO, AEP Indiana Michigan Power, Duke Energy of Ohio, and the OtterTrail Power company in Minnesota.
Assuming a 1200 watt microwave oven, each minute of running time would use approximately .02 kWh (kilowatt hour) of electricity.
Assuming a 30,000 btu gas oven, each minute of running time would use approximately .0050 CCF of natural gas.
Assuming a 3,500 watt conventional oven, each minute of running time would use approximately .05833 kWh of electricity.
My local cost of a kWh of electricity, per my August 2011 NIPSCO bill, is $.067464. By comparison, the average continental United States cost of a kWh of electricity is $.1151 (April 2011, per the US Energy Information Administration).
Gas was much harder to estimate my local cost. NIPSCO, my utility company charges .4387 per therm (August 2011) but also adds .0968 per therm interstate and contract storage charges, making the actual base rate per therm $.5355. To further complicate things, NIPSCO charges a monthly delivery charge. My August 2011 delivery charge was $12.10. Adding in this delivery charge jumped my August therm rate to $2.4226! Leafing through the last two years of gas bills, I found monthly delivery charges ranging from $84.99 per month to as low as $7.08 per month. I did not find a good formula for calculating the standard delivery charge per therm.
Duke Energy of Ohio estimates the September 2011 cost per CCF to be $1.165, and Madison Gas and Electric estimates the cost per CCF to be $.732 (converted from a therm cost of $.74). A therm is a CCF x 1.010. The US Energy Information Administration shows the average US cost of gas per CCF in 2010 to be $1.121.
Article by Patti Tokar Canton
©
2011-2018 All Rights Reserved. Do Not Duplicate Without Permission
---
RECOMMENDED BOOK
---
Your Money or Your Life by Joe Dominguez and Vickie Robin
9 Steps to Transforming Your Relationship With Money and Achieving Financial Independence.
Are you working to make a living or working to make a life? Change the way you treat money and think about money. Revolutionary, inspiring and empowering nine-step program for transforming your relationship with money and achieving financial independence. This book is a classic and has changed many lives and Amazon readers give it a 4+ star rating (out of 5)!
---
THE COMPLETE TIGHTWAD GAZETTE by Amy Dacyczyn
....This is one of my favorite books.
Although a little quirky sometimes, and sometimes a little extreme, this book has many great ideas for spending less on low priority stuff so you'll have more money to spend on high priority stuff (like college, or a house!) The author, Amy Dacyczyn lived her dream of having a large farm house and many happy kids all while working from home and learning how to be creative and frugal. Amy's background in graphic design makes her approach to saving money simply delightful. The best part for me was the wonderful tone of family love that weaves throughout the book. Very creative and fun book and VERY THICK! You will definitely get your money's worth in simple living tips and money saving tips with this book.
---
  Books are offered in association with Amazon
The Fat Dollar Ideas
In the Kitchen - grocery shopping, cooking, planning ... get some Fat Dollar Ideas
Vitamins and Fruit Juice - save $63.87 a year and 20,440 calories
Recipes for Stale Marshmallows
How to Re-Crisp Stale Ready-to-Eat Cereal
Save Money on Food with Inexpensive Clothespins
Microwave Muffins - Worth the Energy Savings? - the experiment and the recipe
Save Grocery Money Books - free bonus cookbook with purchase
In the Home - tips and ideas to save money in your home
Make Your Own Shampoo and Rinse - Herbal or Plain

Does it Save Money to Use Toilet Paper Instead of Facial Tissue?
The Washing Soda Experiment - Can You Make Washing Soda from Baking Soda?
My Failed pH Test: Making Washing Soda - The Unexpected Find
Save Money on Anti-Aging and Skin Care Creams
Stop Comparing and Just Enjoy Your Life


More Low Cost Gift Ideas for High Impact
Manage Your Money - Tips for managing your Fat Dollars
How to Stop Impulsive Spending
Save Money on Gas - Increase Your Mileage Up to 26%
Find Your Car's Expected Miles Per Gallon to Save
Let Uncle Sam Help Finance Your Retirement Plan
Tips For Lowering Income Taxes
Bartering Online or Offline - To fatten up your dollars
Fat Dollar recommends Simply Free Stuff site - Free samples and products
Books to help you save money and regain control of your Fat Dollars