How to Save Money on Food
Using Clips to Seal a Box of Cereal
or a Bag of Chips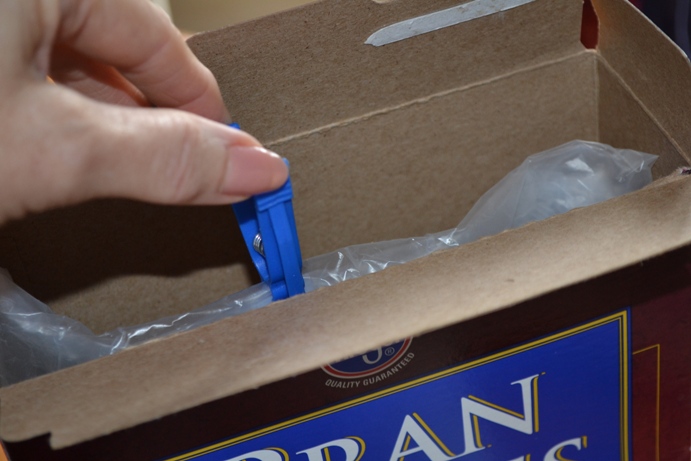 Photo by Patti Tokar Canton
© 2011
According to a Purdue University study, ready-to-eat cereal will stay fresh for 2 or 3 months after opening if the package liner is refolded tightly after each use. If the liner is not sealed, the cereal will be crisp for less than a week.
Not only is it costly to let the cereal go to waste by letting it get stale, but it is also an additional stress factor. If a bowl of cold cereal is part of your regular breakfast menu, it can make an annoying and time-costly shift in the morning routine to discover that the cereal you planned to eat is stale.
The suggested serving size of cereal is 1 oz, which is usually 1/2 to 1 cup of cereal. The box of bran flakes in the above photo is 17.3 oz, and is what I'd consider a standard sized box. This box should be expected to yield 17 servings, or to last for 17 days if I eat one bowl of cereal each morning. Unless I carefully reseal the bag after each use, I would expect the box to go stale after 7 days, leaving me with 10 unpleasant servings of cereal.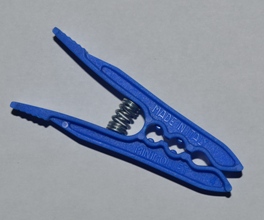 Enter the humble plastic clothespin. As you can see in the photo at the end of the article, it is doing a fine job of keeping the cereal liner folded and sealed. It takes less than 10 seconds to refold and seal the bag. (Note that the clothespin will move down and sideways slightly when the box is closed so that it does not cause interference with closing the top of the cereal box. )
For me, these clothespins work much better than the standard plastic bag clips, because they are much easier to press open and to position on the bag. I can use more than one if needed. They are also more kid-friendly than the traditional food bag clips.
While the photo and the cost-savings examples show how to keep cereal fresh, they work quite well to seal a bag of chips, as bread bag clips, for keeping chocolate chips cookies fresh, and as a general food bag clip.
I like the plastic clothespins because they are colorful and fun to use. I bought my last package at Walmart's regular price of $3.37 for a package of 36. This is a cost of about $.09 per clip. (As a comparison, Walmart has a 5 inch food bag clip listed for sale at $6.99 for one clip. A set of 4 mini-magnetic plastic bag clips is $7.69.).
The wooden spring-type clothespins will work just as well, but I find them a little boring. I also think the spring in the wooden clothespins seems to fall out more easily, but I don't have any facts to back up that statement. Both the plastic and the wooden clothespins last a long time. They tend to eventually get lost rather than broken. I expect a 36 piece package to last a year with daily use.
To get an idea of prices for calculating savings, I looked at this week's (Sept 8, 2011) Kroger weekly ad. Post cereal is on sale for $2.49 for a 11-20 oz box, depending on the particular cereal. Assuming that you eat a 1 oz serving for breakfast, this should last for 1-1/2 to 3 weeks. Also assuming that you are careless about sealing the bag, then your cereal would go stale within a week, therefore leaving you with 4 to 13 ounces of potentially wasted cereal. At $2.49 a box, the cost is $.12/oz for the 20 oz box and $.23/oz for the 11 oz box. (Figures are rounded) Therefore there is a potential waste of $1.32 for the 23 oz box and $.92 for the 11 oz box.
This figure could get larger if your response to the stale cereal is to stop at the fast-food drive through and spend $3.00 or so to get a quick substitute breakfast. We won't even discuss the extra fat and calories with this option.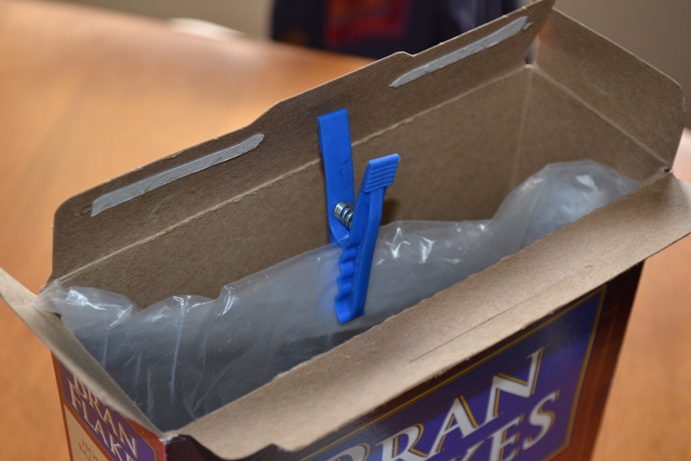 Photo by Patti Tokar Canton
© 2011
Conclusion: Spend $3.37 on a set of clothespins (or less if you get them on sale) and save up to an estimated $1.32 on every box of cereal.
Add in the potential savings on chips, bread, pet food, and anything else stored in a non-zipper plastic or wax bag, and you could end up saving $100.00 or more in a year on your food purchases.
Use and enjoy what you have, live a joyful, less stressful life, save money, and throw in a little colorful fun. Now that's The Fat Dollar way!
Also see our article on How to Make Stale Cereal Crisp
Resources:
Purdue Extension Consumer and Family Sciences, Dept of Foods and Nutrition, publication CFS-423-W
Weekly Kroger Ad (www.kroger.com) for Sept 8, 2011
Walmart.com for estimated food clip costs
Article by Patti Tokar Canton
©
2011- 2013 All Rights Reserved. Do Not Duplicate Without Permission
---
RECOMMENDED BOOK
Your Money or Your Life by Joe Dominguez and Vickie Robin
9 Steps to Transforming Your Relationship With Money and Achieving Financial Independence.
Are you working to make a living or working to make a life? Change the way you treat money and think about money. Revolutionary, inspiring and empowering nine-step program for transforming your relationship with money and achieving financial independence. This book is a classic and has changed many lives and Amazon readers give it a 4+ star rating (out of 5)!
---
THE COMPLETE TIGHTWAD GAZETTE by Amy Dacyczyn
....This is one of my favorite books.
Although a little quirky sometimes, and sometimes a little extreme, this book has many great ideas for spending less on low priority stuff so you'll have more money to spend on high priority stuff (like college, or a house!)

The author, Amy Dacyczyn lived her dream of having a large farm house and many happy kids all while working from home and learning how to be creative and frugal. Amy's background in graphic design makes her approach to saving money simply delightful.

The best part for me was the wonderful tone of family love that weaves throughout the book. Very creative and fun book and VERY THICK! You will definitely get your money's worth in simple living tips and money saving tips with this book.
---
THE COMPLETE IDIOTS GUIDE TO BEING A CHEAPSKATE by Mark W Miller. Help with saving money on travel, gifts, home items and more in the traditional "complete idiot's guide" format.
  Books are offered in association with Amazon
The Fat Dollar Ideas
In the Kitchen - grocery shopping, cooking, planning ... get some Fat Dollar Ideas
Vitamins and Fruit Juice - save $63.87 a year and 20,440 calories
Recipes for Stale Marshmallows
How to Re-Crisp Stale Ready-to-Eat Cereal
Save Money on Food with Inexpensive Clothespins
Microwave Muffins - Worth the Energy Savings? - the experiment and the recipe
Save Grocery Money Books - free bonus cookbook with purchase
26 Good Uses for Used Coffee Grounds
In the Home - tips and ideas to save money in your home
Make Your Own Shampoo and Rinse - Herbal or Plain
Is Vinegar Cheaper to use than Fabric Softener?
Stay Cool in the Summer With These House Cooling Tips

Does it Save Money to Use Toilet Paper Instead of Facial Tissue?
Rechargeable Batteries - Energetic Cost Savings
Washing Soda from Baking Soda Cost
The Washing Soda Experiment - Can You Make Washing Soda from Baking Soda?
My Failed pH Test: Making Washing Soda - The Unexpected Find
Another Washing Soda From Baking Soda Experiment (This Time the pH Test Works)
Save Money on Anti-Aging and Skin Care Creams
Stop Comparing and Just Enjoy Your Life


More Low Cost Gift Ideas for High Impact
Christmas Gift Ideas for $10 or Less
Manage Your Money - Tips for managing your Fat Dollars
How to Stop Impulsive Spending
Check on Your Income Tax Refund Status
Save Money on Gas - Increase Your Mileage Up to 26%
Find Your Car's Expected Miles Per Gallon to Save
Let Uncle Sam Help Finance Your Retirement Plan
Tips For Lowering Income Taxes
Bartering Online or Offline - To fatten up your dollars
Fat Dollar recommends Simply Free Stuff site - Free samples and products
Books to help you save money and regain control of your Fat Dollars